When you think of vacations, what we imagine is traveling with friends, family, or spouses. But how about vacations for singles over 40? Can you find good ones? I'm sure you can.
If you are a single traveler looking for the best vacations for singles over 40, you're not alone! As many as one-third of Americans are single, and we all need to take some time off to relax and recharge.
The truth is fun times can be achieved whether you are traveling solo, as a group, or as a family. In fact, when it comes to vacations for singles over 40, the opportunities are limitless. And today, we are here to ensure that your next solo trip is as entertaining as it should be.
Whether you are looking for a group or solo adventure holiday in South America, some beach time in the Caribbean, or some winter adventures in Alaska, we got you covered. Remember, the secret to an incredible singles trip is picking the right destination.
We've compiled this list of breathtaking destinations, giving solo travelers the best chance to enjoy the best solo trips.
Best Solo Travelers Vacations for Singles Over 40 Years Old
Here are the best vacation ideas for singles over 40 years;
1. Head to South Beach for Sun and Fun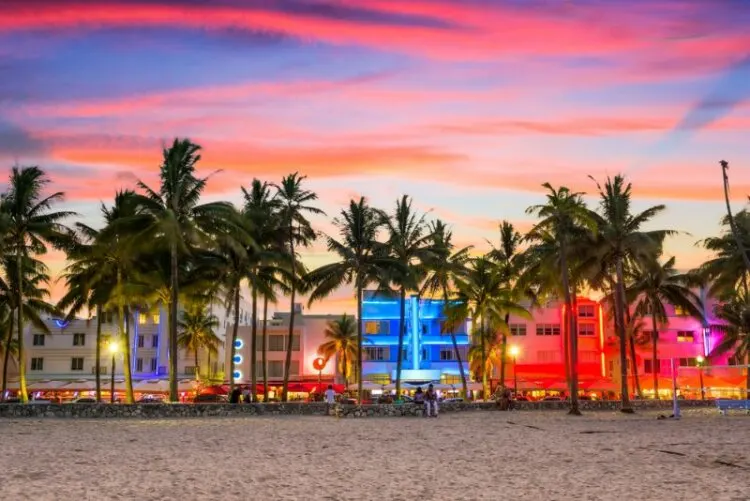 South Beach (SoBe) is an excellent choice if you're in the mood for sun and fun. This vibrant city is home to a wide variety of activities, including swimming with dolphins, visiting museums, and exploring art galleries.
What's more? There are tons of singles who live here. So, if you want to meet some new people while on vacation, this is a great place to start.
South Beach offers several different types of accommodations ranging from budget hotels to luxury resorts (and everything in between). There are also plenty of restaurants offering varied menus that will satisfy any foodie's cravings.
As such, whether it's breakfast at Tiffany's or dinner at Prime 112 that has your mouth watering, don't worry. There will definitely be something delicious waiting for you on South Beach's streets!
See Related: Best Camping Kayaks for Travel and RVing
2. Solo Trip to Five Elements Resort in Bali
Five Elements Resort is a luxury resort located on the beach in Bali. It's perfect for singles over 40 who want to relax and unwind while away from home. You can enjoy the beach, spa, yoga and meditation classes, and wellness activities offered at this resort – the food is excellent too.
Strategically located on the banks of the mighty Ayung River, the resort is undoubtedly among the best places to be for a solo traveler. With deep roots in Bali traditions, this eco-conscious wellness retreat center is a place you want to be. It's a peaceful sanctuary that will help you appreciate authentic Balinese healing, sacred arts, and amazing plant-based cuisine.
Each day here starts in a special way. From the morning yoga classes and plant-based breakfast to enjoying the lush environment, the resort offers the best way to become one with nature. As such, I would consider it one of the great holiday destinations, especially for singles traveling solo.
See Related: Best Bus Tours In Sioux Falls, South Dakota
3. Chiva Som, Thailand
Chiva Som is a luxury resort that combines spa, yoga, and meditation retreats with private beach access. Located on the Andaman Sea in Thailand, Chiva Som offers an exclusive and tranquil getaway for guests looking to unwind in style. It's among the best vacation spots for singles over 40 years old who want to relax, unwind, and calm their nerves from the hassle of life.
The resort features an infinity pool overlooking the ocean, as well as a restaurant and bar where you can indulge in local cuisine or sip cocktails while listening to live music.
Chiva Som also offers weekly activities such as golfing at one of Thailand's top courses (booked through the concierge), cooking classes, or even a traditional Thai massage treatment at its spa.
Even better, the resort is just 600 meters from the famous Cicada Market and only 1.3 miles from Khao Takiab Beach. So, if you want to spend some quality beach time, you're all sorted here.
In addition, the resort offer visitors access to amazing amenities such as a fitness center, indoor pool, 24/7 front desk, and evening entertainment. In essence, no matter what brings you here, Chiva Som will make sure your solo travel experience is unforgettable.
See Related: How to Find Cheap Flights to Anywhere
4. Trekking Petra in Jordan
If you're looking for a vacation spot that will get your heart pumping, look no further than Petra. This UNESCO World Heritage Site was built by the Nabataeans in the 4th century B.C. In fact, it was briefly the capital of their kingdom before being conquered by the Romans around 106 AD.
Petra remained a major trade center until around 700 AD when it was abandoned due to changes in trade routes. Today, Petra is one of the most important archaeological sites in the Middle East and is located in southern Jordan within Wadi Musa National Park. If you are looking for a challenging solo walking tour, this might be your best bet.
The site includes four magnificent royal tombs carved into the sandstone rock face that you'll love to see. In addition, there are large stone buildings decorated with intricately carved facades called façades (also known as "goalposts" or "baboons") that are magnificent to see.
These structures are thought to have been administrative centers during Petra's heyday. They are also believed to be temples used by priests who lived near them during religious ceremonies dedicated to Nabataean gods such as Dushara or Al-Uzza. These gods were worshipped here until around 170 A.D.
Petra is an ideal adventure destination, whether you are planning a group trip or a solo holiday getaway. The only thing you should note is that the conditions here can be quite challenging. So, prepare adequately.
See Related: Brussels vs Amsterdam: 6 Differences to Know
5. Beach Getaway in Punta Cana, Dominican Republic
Are you planning your first solo trip? Well, if you want to relax and let loose, consider a beach getaway in Punta Cana, Dominican Republic. The country is known for its beautiful beaches and warm weather year-round.
There are luxury resorts with all kinds of amenities (including pools, spas, and bars), which makes it easy to meet other travelers. It also allows you plenty of rest time (you deserve it).
Besides being an excellent place to unwind on vacation for solo travelers, it can also be a great option when traveling with friends, family, or even your significant other. But most importantly, Punta Cana makes for a great destination if you're single and over 40.
The larger Punta Cana region is Latin America's 2nd most visited tourist destination. In fact, it receives more travelers than any other Caribbean region. This makes it clear that Punta Cana is one of the most exciting destinations to be at.
The main entry point to the region is through Punta Cana International Airport (PUJ). The airport is quite popular as it receives around 64% of flights arriving in the Dominican Republic.
If you want to experience the best white sand beaches, turquoise waters, and resorts that offer incredible views of the Atlantic Ocean and the Caribbean Sea, this is the place. These views, combined with the warm weather almost all year round, guarantee you the best singles vacation. And if you want a great place to relax after a busy day, Hyatt Ziva Cap Cana allows you to do just that.
See Related: Best Beach Drinks | Cocktails and Recipes
6. Visit a Wellness Retreat
If you're looking for a vacation that will help you relax, de-stress and recharge, consider visiting a wellness retreat. These types of vacations offer a variety of activities to keep you busy and give your mind a well-deserved break from the busy everyday life.
Many wellness retreats are located in beautiful locations and are great for singles who want to meet new people but still have plenty of quiet time on their own. They offer the best environment for solo travelers and ensure that they experience the most memorable moments.
Sometimes you plan a solo trip because your friends aren't interested in traveling with you. Other times it's because they can't afford it this year (or ever). But whichever the reason, these popular choices guarantee incredible solo travel.
The Retreat (Costa Rica) – Located on a crystal quartz mountain in a rainforest, this resort offers yoga classes, meditation classes, and lots of other ways to de-stress. Plus, you'll be enjoying spectacular views of both land and sea. This all-inclusive resort hosts annual events like Yoga Fest Zumbathon, which welcomes members of all ages.
Rancho la Puerta (Mexico) – This popular luxury resort is located near Puerto Vallarta, where guests can enjoy golfing at nearby courses or hiking through nearby mountainsides. Hikers will have no trouble getting back home safely each night, thanks to its private shuttle service.
See Related: Best Bus Tours in Philadelphia, Pennsylvania
7. Take a Cheap Vacation in Mexico as a Single Gal
For singles looking to travel cheaply (on a budget), Mexico is a great option. You can find everything from Airbnb apartments and hostels to resorts that cater specifically to single travelers.
Also, there are plenty of things that make Mexico an ideal destination for singles over 40. Depending on where you want to go, you can visit some of the country's most popular tourist destinations, such as Cancun, Tulum, and Mexico City. All these places are so popular for a reason.
So, whether it's a visit to the unique white beaches of Talum or enjoying stunning artwork at Casa de Los Venados, there is something for you here. And if you're looking for something more adventurous, there are also Mayan ruins or Caribbean cruises available. In the end, you might be embarking on one of the most popular trips of your lifetime.
See Related: Best Rooftop Tents: Top Options for 2023
8. Go on a Group Vacation Tour
Enjoying the best vacation for singles over 40 doesn't necessarily mean you vacay alone. A small group tour to one of the world's popular destinations would also come in handy.
Group tours are a great way to meet people, learn about local culture, and save money on travel costs. You can plan your own itinerary and choose how much or little you want to do each day.
Also, if you value privacy, you should ensure that you get your own room once you reach your destination. Most resorts and hotels do offer this unless you are traveling as a family and want to rent one room or an Airbnb. For me, I wouldn't go for less than a private room, although sharing a room might give you the best opportunity to make new friends.
With a group tour, you can decide to go for a road trip, camping in some of the most incredible parks, such as Yellowstone National Park, or even enjoy beach time and parties in the Caribbean. All you need is to get the right people for the trip and find the best destination. It's easy to start dating while traveling on a group vacation tour.
See Related: Best Luxury Bus Tours
How to Plan Your Holiday as a Single Traveler
If you're planning a trip as a single traveler, you need to answer a few key questions to guarantee the best trip. For instance:
Where are you traveling to?
What are your traveling goals?
What's your budget?
How long is your vacation?
Answering these questions helps you to establish the best way to travel, ensuring that you get the best vacation but at an affordable budget. The best place to start when planning for a vacation is to ensure that you do it ahead. This helps to ensure that your holiday will be enjoyable and safe.
And if you don't have the time or energy to plan every little detail, ask for help from friends or family members who are willing to assist. Various travel companies can also help you with this. In fact, there are numerous tour companies that help solo travelers to plan exciting trips.
Travel Tips for Planning a Trip as a Single Guy or Girl
Here are more incredible tips to consider while planning a singles trip.
Create a budget for your trip and stick to it as much as possible. Don't overspend just because it's "your" vacation. Also, make sure all of your bills are paid off before leaving on vacation so that they don't distract you while traveling across the ocean or continent.
Book early—the earlier, the better! Booking early ensures that there won't be any problems with availability at hotels or attractions during peak times (holidays). It also helps avoid paying higher rates during busier seasons when rooms are filling up quickly with guests who booked later than expected – travelers like yourself!
Go alone if possible. Relish every moment of solitude without worrying about anyone else around except maybe an occasional waiter bringing food or drinks.
Get travel insurance cover. Ensure you have a valid cover before you travel. This protects you against
Related Resources