Denver, the vibrant capital city of Colorado, serves as an ideal starting point for numerous exciting day trips. With the majestic Rocky Mountains as its beautiful backyard, this Mile High City offers a plethora of beautiful landscapes and exhilarating outdoor experiences perfect for those seeking adventure and respite in stunning Colorado.
When planning day trips from Denver, one can discover a treasure trove of options – exploring the awe-inspiring mountain peaks or visiting picturesque towns steeped in history. From the iconic Red Rocks Amphitheater to the charming town of Estes Park or the adrenaline-pumping activities in Colorado Springs, the opportunities for a memorable journey from Denver are truly endless.
No matter your interests, these day trips showcase the best of Colorado's diverse natural landscapes and vibrant culture, making for unforgettable excursions that cater to both locals and travelers alike. So pack your bags, fuel up your car, and embark on a remarkable day trip to discover the many wonders that await outside Denver's city limits.
Seasonal Day Trips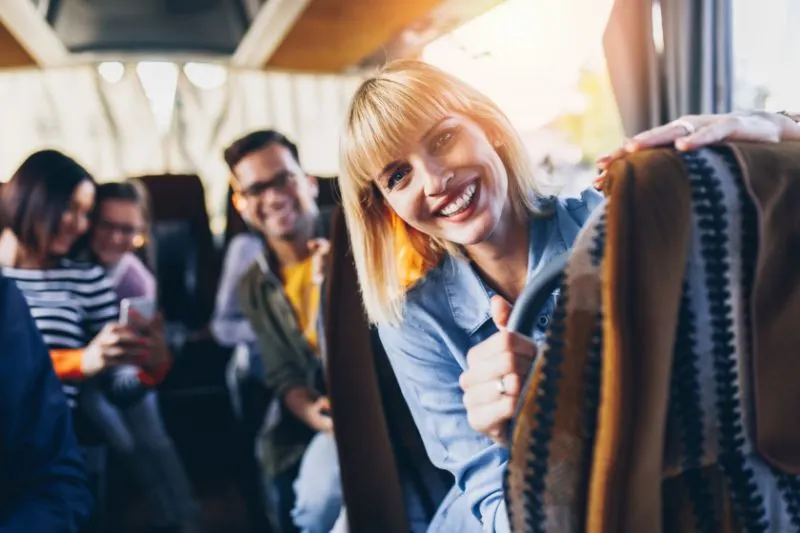 Summer
A day trip to Boulder is a great choice during the summer months. Located less than an hour from downtown Denver, Boulder offers beautiful open-space park systems and the University of Colorado campus with manicured quads and towering stone buildings. St. Mary's Glacier is just 40 minutes west of Boulder and offers year-round hiking opportunities for those interested in hiking.
Fall
In the fall, a visit to Rocky Mountain National Park is highly recommended. As the leaves change color and create a stunning backdrop, this national park offers breathtaking views and abundant hiking trails. Located less than two hours from Denver, Rocky Mountain National Park is the perfect destination for a fall day trip.
Winter
During winter, skiing and snowboarding enthusiasts can head to Vail ski country for a day on the slopes. Vail is just two hours from Denver and is known for its world-class ski resort and beautiful winter landscape. For those who prefer other winter activities, options like snowshoeing and snow tubing are available in the area.
Spring
In spring, a day trip to Cheyenne, the capital of Wyoming, is an excellent choice. Just an hour and 40 minutes north of Denver, this quiet town offers a beautiful, grand Wyoming State Capitol building and the chance to experience a different state without venturing too far from Denver. Springtime also provides a picturesque backdrop as the town comes to life with blooming flowers and greenery.
Outdoor Attractions
Denver is a gateway to some spectacular outdoor attractions that provide ample opportunities for various activities. Whether you are an adventure enthusiast, a nature lover, or simply looking to relax amidst breathtaking landscapes, these day trips offer a perfect escape.
For hiking lovers, Rocky Mountain National Park is an ideal destination. Located about 90 miles from Denver, the park boasts over 300 hiking trails, ranging from leisurely walks in the woods to challenging routes. Enjoy abundant wildlife, such as elk and bighorn sheep, and marvel at the park's stunning landscapes.
Just 30 minutes away from Denver lies Red Rocks Park and Amphitheatre, a nature-lovers paradise. The park offers numerous hiking and mountain biking trails for various skill levels. Besides being a famous concert venue, Red Rocks Amphitheatre is also a popular spot for yoga classes and workout sessions in the great outdoors.
For those interested in climbing, Golden, a small town around 20 miles from Denver, is home to several rock climbing spots. North Table Mountain and Clear Creek Canyon provide a range of routes for different experience levels. The area also features mountain biking and hiking trails, making it a true outdoor hub.
Some of Colorado's best river and lake fishing can be found in South Platte, feeding into Antero, Spinney Mountain, and Eleven Mile reservoirs. These areas, about 85 miles from Denver, are perfect for outdoor activities like snowmobiling, snowshoeing, and cross-country skiing during winter.
If camping is your preferred outdoor activity, consider visiting Fairplay and South Park. Located approximately 85 miles from Denver, these areas offer a variety of camping options, as well as opportunities for wildlife sightings and birdwatching.
Denver's proximity to these remarkable outdoor attractions makes it an excellent base for exploring various activities such as hiking, mountain biking, climbing, wildlife watching, camping, and more. So grab your backpack, put on your hiking shoes, and embark on an unforgettable day trip filled with adventure and natural beauty.
See Related: Best Day Trips from Scottsdale, Arizona
Popular Destinations
Rocky Mountain National Park
Rocky Mountain National Park, located around 70 miles from Denver, is a must-visit destination for nature lovers. The park is home to majestic mountain views, diverse wildlife, and over 300 miles of hiking trails. One of the highlights in the park is the Trail Ridge Road, offering stunning panoramic vistas and reaching an elevation of 12,183 feet.
See Related: Best Vacations for Singles Over 40
Garden of the Gods
Garden of the Gods, situated in Colorado Springs, is just a 1- and 20-minute drive from Denver. This natural park features magnificent red rock formations and various outdoor activities, such as:
Hiking
Rock climbing
Horseback riding
Pikes Peak
Pikes Peak, one of Colorado's 14ers, can be found approximately 110 miles south of Denver. Visitors can hike, drive, or take the cog railway to the summit, where they'll be rewarded with breathtaking views of the surrounding area.
Estes Park
Estes Park, the gateway to Rocky Mountain National Park, is a charming mountain town about 1.5 hours from Denver. The town is popular for its:
Scenic beauty
Wildlife sightings
Annual Elk Fest
Vail
Vail, a world-famous ski destination, is just 100 miles west of Denver. The town offers various year-round activities, including:
Skiing and snowboarding during winter
Hiking and biking in the summer
Luxurious dining and shopping experiences
Breckenridge
Breckenridge, another premier ski resort town, is about 80 miles from the Mile High City. In addition to winter sports, the town is renowned for its:
Historic Main Street
Art galleries
Outdoor events and festivals
City Day Trips
Fort Collins
Fort Collins, located just an hour north of Denver, is a lively college town known for its microbreweries, cultural attractions, and outdoor activities. Here you can visit the Colorado State University campus, indulge in a variety of breweries, or explore the picturesque Old Town district. Key attractions in Fort Collins include:
Boulder
Boulder, a city nestled at the Rocky Mountains foothills, is just 30 miles northwest of Denver. Known for its beautiful scenery, vibrant arts scene, and outdoor recreation opportunities, Boulder has everything needed for a perfect day trip. A visit to Boulder often includes:
Pearl Street Mall: A pedestrian-only shopping center offering unique shops, art galleries, and local restaurants
Culture & Museums: Boulder Museum of Contemporary Art, Fiske Planetarium, and the University of Colorado Boulder campus
Central City
Central City, located about an hour west of Denver, is a historic mining town that has preserved much of its Old West atmosphere. With a mix of gaming establishments, museums, and cultural events, Central City is an excellent destination for those interested in history and entertainment. During your Central City visit, make sure to check out:
Old West History: Central City Opera House, Gilpin History Museum, and the historic Main Street
Casinos: Enjoy a variety of gaming options within the town's unique, historic buildings
These day trips from Denver allow you to explore Colorado's diverse landscapes and cultures. Whether you are interested in museums, shopping, or Old West charm, cities like Fort Collins, Boulder, and Central City provide unforgettable experiences within a short drive from the Mile High City.
See Related: Fun & Best Things to Do in Napa, California
Nature Parks and Scenic Drives
Red Rocks Park and Amphitheatre
Red Rocks Park and Amphitheatre is a must-visit destination for anyone seeking a day trip from Denver. Located just 30 minutes from the city, this natural wonder offers breathtaking views of the city and surrounding mountains. The amphitheater is a popular concert venue, but visitors can enjoy hiking trails and the geological marvels within the park.
Mount Evans Scenic Byway
The Mount Evans Scenic Byway is another excellent day trip option, offering a drive through stunning alpine landscapes. This winding road takes travelers to the summit of Mount Evans, which boasts an elevation of over 14,000 feet. Along the way, they can enjoy views of surrounding mountains, wildlife sightings, and many hiking opportunities.
Roxborough State Park
Roxborough State Park is known for its dramatic red rock formations and diverse wildlife. The park features over 4,000 acres of pristine landscape with several hiking trails for all skill levels. Visitors can experience striking views of the park's geological wonders, such as the Fountain and Lyons formations.
Cache La Poudre River Canyon
Cache La Poudre River Canyon offers a wonderful day trip for those looking for adventure and relaxation. Its crystal clear waters, lush forests, and steep canyons provide both pristine beauty and ample opportunities for outdoor activities like hiking, camping, and fishing. The area is also home to the Pine and Mohawk Lakes Trail, where hikers can explore alpine meadows, pine forests, and lake views.
Pikes Peak Highway
The Pikes Peak Highway is a spectacular drive that takes visitors to the summit of Pikes Peak, one of Colorado's highest and most famous mountains.
Along the 19-mile route, travelers can take in incredible scenery, including expansive views of Dillon Reservoir, the surrounding mountain ranges, and various natural landmarks. The highway also offers several pull-offs where visitors can enjoy hiking, fishing, and watching wildlife near Deckers, South Platte River, and Cheesman Lake.
See Related: Best Bars in Jackson, Wyoming
Adventurous Activities
Skiing and Snowboarding
Denver's proximity to the Rocky Mountains offers adventure seekers an abundance of skiing and snowboarding options. Some popular resorts nearby include Keystone and Loveland. Here are a few not-to-miss options:
Keystone Resort: Located 90 miles from Denver, it offers a variety of terrains for skiers and snowboarders of all levels.
Loveland Ski Area: Situated 53 miles west of Denver, Loveland has beginner to advanced trails and a laid-back atmosphere.
Mountain Biking Trails
The region surrounding Denver is home to numerous mountain biking trails with options for all skill levels. Take your bike and explore:
Buffalo Creek: This trail network is about 45 miles southwest of Denver and offers various terrain types, from smooth singletrack to more technical sections.
Golden Gate Canyon State Park: Just 30 miles west of the city, the park has more than 35 miles of multi-use trails, perfect for an exhilarating mountain biking experience.
Rock Climbing
With its dramatic landscapes, Colorado has a rich rock-climbing heritage. Some notable climbing destinations near Denver include:
Eldorado Canyon State Park: Located 27 miles from Denver, it boasts classic routes and challenges for climbers of all abilities.
Clear Creek Canyon: About 20 miles west of the city, this canyon offers sport climbing and traditional routes across various rock types.
Fishing
Thanks to the city's thriving rivers and lakes, anglers can find many fishing opportunities in and around Denver. Here are a couple of popular spots:
South Platte River: This river flows through Denver and is home to brown and rainbow trout, as well as other species. The area below Chatfield State Park is particularly popular.
Rocky Mountain National Park: About 70 miles northwest of Denver, the park has multiple lakes and streams teeming with a variety of fish, including trout and salmon.
See Related: Best Travel Trailers to Live in Full-Time & For Nomads
Historical and Cultural Sites
Black Hawk and Central City
Black Hawk and Central City are historic Colorado mining towns just an hour's drive from Denver. They both offer a glimpse into the past, showcasing a rich history of gold mining during the mid-19th century. Visitors can explore preserved historic buildings, try their luck at casinos, or tour an authentic gold mine.
Florissant Fossil Beds National Monument
Florissant Fossil Beds National Monument, located approximately a two-hour drive from Denver, offers an opportunity to learn about and view ancient fossils. The monument features diverse paleontological resources, including a large petrified forest and various animal and plant fossils dating back approximately 34 million years. Here, visitors can explore:
Hiking trails to view petrified stumps and sandstone formations
Visitor center exhibits showcasing the history of the area and its prehistoric inhabitants
Ranger-led programs and demonstrations
Nederland and Ghost Towns
Nederland, a small mountain town located just an hour away from Denver, is the gateway to exploring fascinating ghost towns in the surrounding area. Some interesting spots include:
Apex, an old mining community with remnants of historic buildings
Caribou, a once-prosperous silver-mining town with foundations of former homes and a few remaining structures
In addition to exploring ghost towns, Nederland offers various outdoor recreational activities and attractions such as:
Chautauqua Park for hiking and enjoying the beautiful mountain scenery
The Cog Railway a unique train ride that takes you to the summit of Pikes Peak for stunning views along the way
These day trips offer a combination of history, culture, and natural beauty, providing visitors with memorable experiences outside Denver's city limits.
Other Notable Day Trips
Wyoming Attractions
For those looking for a change of scenery, consider taking a day trip from Denver to explore the beauty and charm of Wyoming. Just a few hours away, you can visit the state capital, Cheyenne, and immerse yourself in its rich history, picturesque downtown, and bustling local events.
Some of the attractions include:
Wyoming State Capitol
Cheyenne Botanic Gardens
Terry Bison Ranch
In addition to Cheyenne, you can also explore other Wyoming destinations offering a mix of outdoor adventures and cultural experiences, such as:
Medicine Bow National Forest
Vedauwoo Recreation Area (popular for rock climbing and hiking)
Curt Gowdy State Park (with numerous bike paths and hiking trails)
Gaming Destinations
If gaming and nightlife are what you're seeking, there are several destinations within driving distance from Denver where you can participate in gambling, fine dining, and live entertainment.
Cripple Creek: Situated about 2.5 hours from Denver, this former mining town features numerous casinos, historical tours, and ample opportunity to try your luck.
Victor: Just five miles from Cripple Creek, Victor is another town with gaming options and a taste of the Old West.
Front Range Weekend Getaways
For those who want to explore the beauty of the Front Range, numerous weekend getaways are available within a short distance from Denver. These destinations often include hiking trails, bike paths, and stunning natural beauty:
Lake Dillon: This picturesque lake offers opportunities for boating, stand-up paddleboarding, and fishing, while the surrounding area has numerous hiking and biking trails for outdoor enthusiasts.
Ski Resorts: The Front Range is home to world-class ski resorts, such as Breckenridge, offering a mix of outdoor adventures, scenic mountain views, and a lively atmosphere.
Take advantage of the variety of day trips from Denver and make the most of your time by exploring these other notable destinations nearby. Plan your visit according to the season and favorite activities to ensure a memorable experience.
Related Resources: