If you're looking for a unique way to see some of the most popular tourist destinations in Europe, look no further than Trafalgar bus tours. With routes that visit top spots like Paris, Rome, and London, Trafalgar provides an unbeatable experience for those who want to see as much as possible during their trip.
Plus, with knowledgeable tour guides and comfortable buses, you're sure to have a great time on your Trafalgar tour. So if you're ready for an unforgettable European vacation, be sure to check out Trafalgar's amazing bus tours!
What Destinations Can Be Visited On A Trafalgar Bus Tour?
Trafalgar bus tours offer a wide range of destinations to choose from. Whether you're interested in exploring the historic sites of Europe or taking in the natural beauty of North America, Trafalgar has a tour that's right for you.
Some of the most popular destinations include London, Paris, Rome, New York City, Niagara Falls, and Yellowstone National Park.
whether you are interested in history, culture, or just want to see some of the most famous landmarks in the world, a Trafalgar bus tour is sure to have something for you.
No matter where you decide to go, you're sure to have an unforgettable experience on a Trafalgar bus tour.
How Long Do Trafalgar Bus Tours Typically Last?
Trafalgar bus tours typically last between 10 and 14 days. Tours typically include visits to major cities and landmarks, as well as opportunities to participate in cultural activities and excursions. Trafalgar also offers a variety of shorter tours, lasting anywhere from 3 to 7 days.
These shorter tours typically focus on a specific region or theme, such as wine country or local history.
Regardless of the length of the tour, all Trafalgar tours are designed to provide an immersive and unique experience.
By combining first-class accommodations with expert local guides, Trafalgar ensures that travelers have everything they need to make the most of their time abroad.
5 Best Trafalgar Bus Tours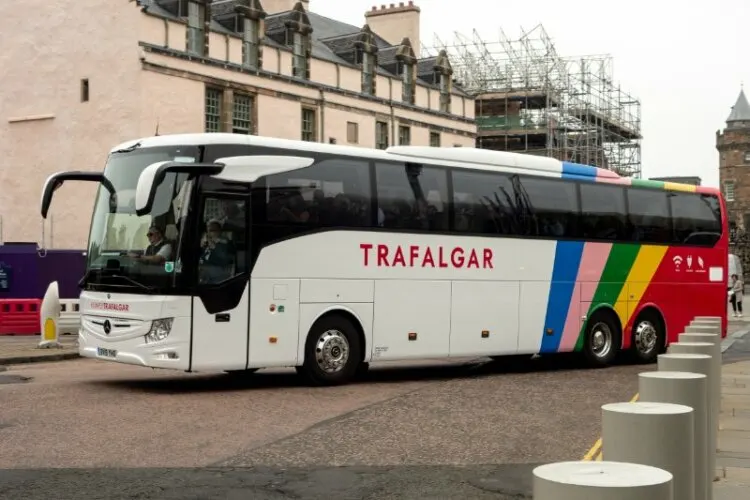 Trafalgar is a world leader in guided vacations, offering exceptional quality and value. Here are our top 5 Trafalgar bus tours:
1. Best of Britain
This 10-day tour takes you to all the must-see sights in England, Scotland, and Wales, from the historic city of London to the breathtaking Highlands of Scotland. You'll also have the opportunity to explore some of the lesser-known gems, such as the charming seaside town of Whitby and the picturesque Lake District.
See Related: 7 Best Gettysburg Battlefield Bus Tours
2. Highlights of Ireland
From the vibrant streets of Dublin to the wild landscapes of the West Coast, this 9-day tour covers all the highlights of Ireland. You'll also get to experience some of the country's traditional culture, with visits to a whiskey distillery and a traditional Irish farm.
See Related: 7 Best Normandy Bus Tours To Paris
3. Scottish Highlands & Islands
Explore the stunning scenery of the Scottish Highlands on this 10-day tour. You'll also get to discover some of the lesser-known islands, such as Skye and Orkney. With its dramatic coastline and spectacular wildlife, this is a tour not to be missed.
See Related: 12 Best Bus Tours Istanbul
4. Enchanting Elbe River Cruise –
Cruise along the Elbe River on this 8-day tour, taking in the beautiful scenery of Germany, the Czech Republic, and Poland. You'll also get to visit some of the historic cities along the way, such as Dresden and Prague.
See Related: Best Bus Tours from Nashville to Jack Daniels Distillery
5. Christmas markets of Germany & Austria
Experience the magic of the festive season on this 9-day tour, visiting some of Europe's most enchanting Christmas markets. From the traditional markets of Munich and Vienna to the more unique ones in Nuremberg and Bamberg, you're sure to find the perfect gift for everyone on your list.
Factors To Consider When Choosing A Trafalgar Bus Tour
When choosing a Trafalgar bus tour, there are several factors to consider in order to find the best option for your needs.
One important factor is the time of year you plan to travel. Depending on the season, different activities will be available and some destinations may be more crowded than others. Consider whether you want to experience the peak of tourist season or travel during a quieter time of year.
Another thing to think about is the size of the group you'll be traveling with. Trafalgar offers both small group and large group tours, each with its own advantages. Small group tours offer a more intimate experience and customizability, while large group tours are more affordable and offer more scheduled activities.
Deciding which type of tour is right for you will help narrow down your choices. With so many options available, taking these factors into consideration will help you choose the best Trafalgar bus tour for your needs.
See Related: 7 Best Bus Tours in Budapest, Hungary
What Is The Cost Of A Typical Trafalgar Bus Tour Ticket?
The cost of a typical Trafalgar bus tour ticket varies depending on the specific tour you choose.
However, all of Trafalgar's tours are all-inclusive, so the price you pay upfront will cover everything from transportation to accommodation to meals. This means that you can relax and enjoy your vacation without having to worry about additional costs.
While the exact price of a ticket will depend on the tour you select, you can expect to pay somewhere in the range of $2,000-$3,000 per person.
With Trafalgar, you can be confident that you're getting great value for your money. Therefore, when planning a trip to Trafalgar, it is important to research the various tour options and compare prices to find the best value for money.
See Related: Best Bus Tours in Branson, Missouri
Are There Any Discounts Available For Trafalgar Bus Tour Tickets?
Trafalgar bus tour tickets are subject to a number of discounts. For example, there is a 20 percent discount for AAA members and a 10 percent discount for seniors. Groups of 10 or more people can also receive a 10 percent discount.
In addition, children under the age of 18 receive a 50 percent discount when accompanied by an adult. Lastly, military personnel and their families can receive up to 25 percent off the regular ticket price. If you book three tickets through the Viator app it will give you a 10% discount.
All of these discounts are available through the Trafalgar website or by calling the customer service number. Please note that some restrictions may apply.
See Related: Best Bus Tours in London: Top Picks for Sightseeing
When Is The Best Time To Take A Trafalgar Bus Tour?
Trafalgar bus tours are a great way to see the sights of a new city, and there is no shortage of tour options to choose from.
However, with so many different tour times and itineraries available, it can be difficult to know when is the best time to take a Trafalgar bus tour.
In general, the best time to take a Trafalgar bus tour is during the shoulder season, which falls between the busy summer months and the quieter winter months. Not only are prices typically lower during the shoulder season, but there are also fewer crowds, making it easier to enjoy the sights at your own pace.
Additionally, the weather is generally more pleasant during this time of year, making it ideal for spending time outdoors. So if you're looking to take a Trafalgar bus tour, consider planning your trip for the shoulder season.
See Related: Best New England Bus Tours
Conclusion
If you're looking for a unique and fun way to see Europe, be sure to check out Trafalgar Bus Tours. Offering several different tour options, there's something for everyone who wants to explore the city. With knowledgeable guides and interesting stops along the way, you're sure to have a great time on one of these tours!