Are you planning a trip from Flagstaff airport to Phoenix and wondering what the best mode of transportation might be? While there are a few options, taking a bus is convenient and affordable. Not only can you sit back and enjoy the views, but you can also avoid the stress of driving on unfamiliar roads.
This blog post will look at what you can expect when you board a bus from Flagstaff Airport to Phoenix, including the cost, route, and amenities. So sit tight, and let's get started!
Bus Travel from Flagstaff to Phoenix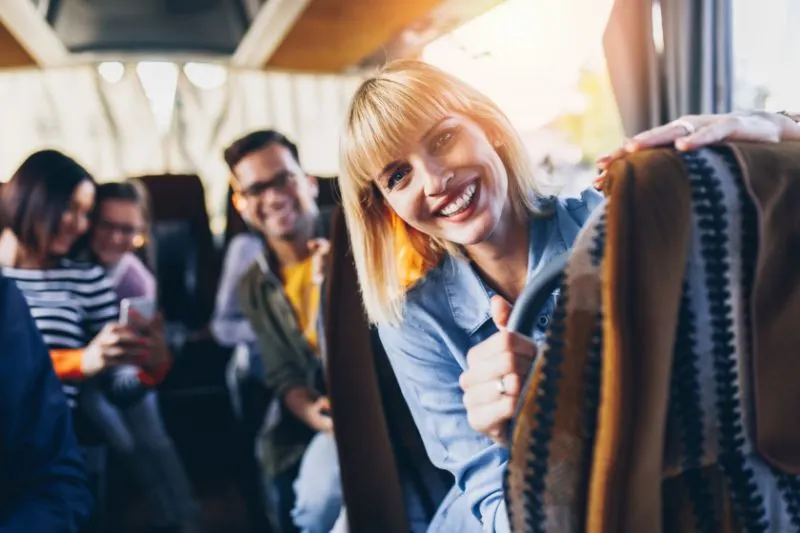 Why take the bus?
Why take the bus from Flagstaff to Phoenix? There are a few reasons why traveling by bus can be an excellent choice. First, it can often be more affordable than other transportation modes. Bus fares are generally cheaper than airfare or renting a car.
Additionally, taking a bus can be a more environmentally-friendly option. You can significantly reduce your carbon footprint by riding the bus instead of driving your car. Another benefit of taking the bus is that it can be a more relaxing and stress-free travel method.
You can sit back, relax, and enjoy the beautiful scenery. You don't need to worry about navigating through traffic or the stress of driving. Taking the bus from Phoenix to Flagstaff can be an excellent choice for those looking to save costs. Also, to reduce their environmental impact and enjoy a more relaxing travel experience.
Benefits of traveling by bus
Traveling by bus from Flagstaff to Phoenix offers many benefits. This makes it an excellent possibility for anyone looking to save costs and time.
First, it is an incredibly cost-effective way to travel between the two cities. With bus fares being significantly less than airfare or driving. Buses offer more comfortable and spacious seating than airplanes. This allows you to stretch your legs and walk around when needed.
You won't be bored or uncomfortable during your journey. The amenities are WiFi, power outlets, and bathrooms. Besides, businesses like FlixBus and Greyhound prioritize safety. It also ensures their buses are clean and well-maintained.
Finally, traveling by bus has the added benefit of reducing your carbon footprint. It contributes to a more sustainable mode of transportation. Taking the bus is an excellent possibility for anyone traveling from Flagstaff to Phoenix.
Bus Services Available
Types of buses that operate from Flagstaff to Phoenix
Different types of buses operate from Flagstaff to Phoenix, catering to the varying needs of travelers. One popular option is the Greyhound bus. It is known for its comfortable seats and clean facilities. Another option is FlixBus US offers sustainable and affordable bus travel. You can travel with amenities like free WiFi and outlets at every center.
Companies like Lux Bus America offer premium amenities. These are leather seats, onboard entertainment, and snacks. Regardless of which type of bus service you choose, taking the bus from Flagstaff to Phoenix is a convenient, budget-friendly option. A bus trip is a safe way to reach your destination during these uncertain times.
Companies offering bus services
Many companies offer bus services in a range of parts of the world. Some well-known ones include Greyhound, MegaBus, National Express, and FlixBus.
Greyhound is a famous bus company in the United States. It provides transportation to over 3,700 destinations across North America. It is known for its affordable fares, comfortable buses, and reliable service.
MegaBus is another transportation company that operates in North America and Europe. It offers affordable bus tickets starting from as low as $1. MegaBus also provides all its buses with free WiFi, power outlets, and seat belts.
National Express is a bus operator in the United Kingdom that offers a wide range of services. This includes long-distance travel, airport transfers, and school transport. It is known for its modern coaches, excellent customer service, and affordable prices.
FlixBus is a European company that operates in 33 countries across the continent. It offers comfortable buses with free WiFi, onboard entertainment, and flexible booking options. FlixBus also has an environmentally-friendly approach. And uses eco-friendly buses to reduce its carbon footprint.
Overall, these fastest bus businesses offer convenient and affordable bus services.
Bus fare costs, cheap bus tickets, and booking process
Among the finest crucial factors for bus trips is the bus fare cost. Different bus stations and companies may have bus schedules with varying prices. So comparing prices between bus stations and finding the most affordable option is crucial. One way to get cheaper bus tickets is to book in advance, as many companies offer discounts for early bookings.
The booking process for the cheapest bus tickets is now easier than ever, with many companies offering online booking options. This means you can easily book your bus tickets from the comfort of your home without going to a ticket office. When booking a bus ticket online, you must provide details such as your desired travel dates, destination, and the number of passengers.
Once you have booked your tickets, you will receive a confirmation email with all the necessary details. These include your ticket number, departure time, and seat number. Some companies also provide mobile tickets, so you can show your ticket on your phone instead of printing it out.
Overall, the bus fare cost, cheap bus tickets, some additional fees, and easy bus ticket booking process make bus trips a convenient, affordable, and efficient option for many people.
Travel Time and Schedule
Time is taken to travel from Flagstaff to Phoenix
The time taken to travel from Flagstaff to Phoenix depends on various factors, such as mode of transportation, traffic, and distance. Car travel usually takes 2-3 hours to reach Phoenix from Flagstaff, covering approximately 147 miles.
But, the time may vary depending on traffic, weather, and road conditions. Traveling from Flagstaff by bus may take longer as the bus makes multiple stops. Overall, the time taken to travel from Flagstaff to Phoenix is relatively quick. It has easy and convenient access, making it a popular route for commuters and travelers.
Peak and Off-peak travel periods
Are you planning on taking a bus from the Flagstaff bus station to Phoenix anytime soon? Knowing about peak and off-peak travel periods is crucial before booking your first bus trip. Here are some things to keep in mind:
Peak travel periods usually fall during holidays, weekends, and any special events in Phoenix.
Off-peak travel periods typically occur on weekdays with fewer travelers.
Booking during off-peak periods can save you money as fares tend to be lower.
But, book your travel in advance if you want to travel during peak periods, as they sell out quickly.
Weather conditions may also affect travel periods, so check the forecast before planning your trip.
It understands peak bus ticket prices and trips before and off-peak travel periods. Can save money and avoid overcrowded buses.
Boarding and Arrival Points
Boarding points in Flagstaff bus station
Are you planning a trip from Flagstaff to Phoenix by bus? Here are the boarding points you should know about. The bus services operate from three primary locations in Flagstaff: Greyhound Bus Station, Mountain Line Transit Center, and Flagstaff Amtrak Station.
Greyhound Bus Station is the most popular choice among travelers. It is conveniently located in the city center and offers a range of amenities. These are restrooms, ticketing services, and vending machines.
Mountain Line Transit Center is another option for excursionists who prefer public transit. But, it is situated a bit away from the city center.
The Flagstaff Amtrak Station is another option. It is located east of the city center and is ideal for those who prefer to travel by train.
Mountain Express provides FREE shuttle service between Downtown Flagstaff. And the Hart Prairie Lodge at Arizona Snowbowl.
Choose a boarding point suitable for you, book online, and get ready to explore the stunning beauty of Phoenix.
Arrival points in Phoenix bus station
Arriving in Phoenix can be an exciting experience, but knowing where you'll be dropped off is crucial to plan your next steps. Here are some of the most popular arrival points in Phoenix:
Downtown Phoenix
Many bus and car companies drop off passengers at the Greyhound Station or the Phoenix Bus Depot in downtown Phoenix. You can easily hop a car, on the light rail, or a taxi to reach your destination.
Phoenix Sky Harbor International Airport
If you're flying into Phoenix, some bus businesses provide drop-off services at the airport. This is convenient if you don't want to worry about finding transportation from the airport to your next destination.
Arizona State University
Some bus businesses offer drop-off services at Arizona State University. Delve into the campus or taxi to your final destination from there.
No matter where you arrive in Phoenix, have your travel essentials and follow safety guidelines while on the bus.
Comfort and Amenities on the Bus
Bus facilities Available
There are Bus facilities available. These are comfortable seating, air conditioning, onboard toilets, WiFi, and charging points. Some buses also have luggage compartments for more oversized items.
In addition, some bus companies offer specialized services. These include wheelchair accessibility and priority boarding for families—also, people with young children or elderly passengers. Bus facilities may vary depending on the service or direct bus provider, the route, and the type of bus being used. Passengers are advised to check the facilities on their chosen bus before booking travel.
Safety Measures
Safety measures are crucial daily, from wearing helmets while riding bikes to following traffic rules. These measures are put in place to protect ourselves and those around us.
One crucial safety measure is to keep emergency contact information readily available. This information can be kept in a wallet, purse, cell phone, or medical alert bracelet. With these details available, emergency responders can quickly contact the appropriate people. This is to provide necessary information and assistance.
Another crucial safety measure is using proper equipment. When engaging in sports or outdoor activities, wearing a life jacket when boating or fishing can save lives in an emergency. Similarly, proper rock climbing or hiking gear can prevent severe injury or death.
Additionally crucial to have a basic understanding of first aid and keep a kit handy. This can be especially helpful in minor accidents like cuts and scrapes. It knows how to apply first aid properly and when to seek professional medical attention.
Overall, safety measures are crucial to protect ourselves and those around us. These simple precautions can prevent accidents and ensure a safer environment for everyone.
Safety guidelines to follow
Following these safety guidelines is crucial to ensure a safe journey on a bus.
Always listen to the driver's instructions and follow them carefully.
Always wear your seatbelt. If your bus doesn't have seatbelts, remain seated while the bus moves.
Keep aisles and emergency exits clear.
Hold a handrail or strap to prevent falling while standing on the bus.
Keep the noise level down, and don't distract the driver.
Don't throw anything out of the window or harass other passengers.
Follow the driver's instructions in an emergency and use emergency exits if necessary.
Don't board or exit the bus until it has come to a complete stop and the driver has signaled that it's safe.
Always be aware of your surroundings and report any suspicious behavior or hazards to the driver.
Following these guidelines will ensure your and your fellow passengers' safety while traveling on a bus.
Tips for a Hassle-free Journey
Travel essentials to carry on Bus journey
When traveling by bus, it's crucial to pack some essentials to make your journey comfortable and stress-free. Here are a few things to consider bringing with you:
Snacks and drinks – Long bus journeys can make you hungry and thirsty. So it's a good idea to bring snacks like fruits, nuts, energy bars, and drinks like water or juice.
Entertainment – Bring a book, a crossword puzzle, or download movies or TV shows on your phone or tablet to help pass the time.
Comfort items – Bring a neck pillow or a blanket, especially for overnight journeys. Some people also find eye masks and earplugs helpful in blocking out light and noise.
Chargers and power banks – If your phone or tablet runs out of battery, it's always good to have a spare power bank and charger.
Personal hygiene items – Bring hand sanitizer, wet wipes, and tissues for personal hygiene purposes.
By packing these last bus trip essentials, you can make your bus journey more comfortable and enjoyable.
Guidelines to Follow While Traveling by Bus from Flagstaff to Phoenix
Keep the noise level down: Remember that you are sharing the bus with other passengers who may want to rest or read. So, keep your conversations low and avoid using loud electronic devices.
Please stay in your seat: It is crucial to remain seated while the bus is in motion. If you need to get up, wait for the bus to come to a complete stop before doing so.
Be courteous: Treat your fellow passengers and driver with respect and kindness. Avoid using profanity or engaging in any behavior that could make others uncomfortable.
Keep the bus clean: Avoid leaving trash or other items behind when you get off the bus. Help keep the bus clean for the following passengers.
Follow safety instructions: Pay attention to any safety instructions provided by the driver or displayed on the bus. This includes wearing your seatbelt if available. Following the bus's Code of Conduct and not carrying any hazardous materials. By following these guidelines, you can ensure a safe and comfortable journey from Flagstaff to Phoenix.
What makes bus travel from Flagstaff to Phoenix a good choice
Traveling by bus from Flagstaff to Phoenix can be innovative and budget-friendly. With an average fare of $22.49, it's an affordable way to cover the distance between the two cities. Multiple bus companies travel and offer bus services with various amenities, making it a convenient option.
The bus route covers vast and scenic natural landscapes, providing a relaxing and enjoyable journey. You can also rest assured that these bus companies have implemented safety guidelines and measures. With the availability of online booking and affordable fares, taking the bus is an excellent choice. This is for those who want to avoid the hassle of driving, save money, and experience a beautiful journey.
Related Resources: