If planning a trip from Indianapolis to Chicago, consider hopping on a bus! It allows you to sit back, relax, and enjoy the scenic views. Whether traveling for work or play, taking the cheapest buses can be convenient and stress-free. In this post, we'll explore everything you need to know about taking a bus trip from Indianapolis to Chicago, including the options available and some helpful tips for making the most of your journey. So sit tight, and let's dive into the world of bus travel!
Booking a Bus from Indianapolis to Chicago
Available bus companies and their schedules
Are you planning a trip from Indianapolis to Chicago and looking for the best bus options? Well, you're in luck! A few bus firms operate on this route, offering convenient schedules to suit your travel needs. Greyhound, FlixBus, OurBus, Amtrak Thruway, and Barons Bus Lines are famous buses. They provide service between Indianapolis and Chicago.
With multiple daily trips, you'll have plenty of options. Whether you prefer an early morning departure or return trip or a late evening ride, there's a full trip schedule that will fit your itinerary. So, sit back, relax, and enjoy the comfort and convenience of bus travel.
Online booking options
1. FlixBus: With its user-friendly website and mobile app, FlixBus makes online booking a breeze. Just a few clicks, and you'll have your ticket in hand.
2. Wanderu: Wanderu offers a simple and hassle-free checkout process cheapest bus tickets. It allows you to compare prices and schedules from multiple bus companies in one place.
3. OurBus: Book your bus ticket now with OurBus and enjoy their easy-to-use website and app. Here, you can find great deals and save money on other modes of bus travel.
4. Greyhound: Greyhound's online booking platform lets you reserve seats for many passengers.
5. Amtrak Thruway: Amtrak Thruway's website allows you to book bus tickets seamlessly. It also ensures a smooth travel experience.
Whether you prefer FlixBus, Wanderu, OurBus, Greyhound, or Amtrak Thruway, these online booking options make securing your bus tickets from Indianapolis to Chicago convenient and easy. Say goodbye to long queues and hello to stress-free travel planning!
Ticket prices and discounts
Are you planning a trip from Indianapolis to Chicago and wondering about bus ticket prices and discounts? Look no further!
A bus ticket from Indianapolis to Chicago costs around $45. It's always a good idea to compare prices to get the best deal. You can book your FlixBus ticket at just a small fee of $30.99.
If you book your trip ahead of time using Wanderu, you can easily find the cheapest way most bus companies travel with tickets at or below the average price. Remember that bus firms often charge higher bus ticket compared to prices closer to the travel devel, so booking your bus tickets early is recommended to save some money.
Boarding the Bus
Departure location in Indianapolis
In need of cheap bus tickets from Indianapolis to Chicago? Well, you're in luck! The departure location in Indianapolis is conveniently located at the Greyhound Amtrak Station.
Situated right at the core of downtown, this central location makes it easy to hop on the bus and start your journey to the Windy City. With hundreds of shops, restaurants, and hotels nearby, you'll have plenty to explore before departure.
Plus, the Greyhound Amtrak Station is easily accessible by public transportation, so getting there is a breeze. Whether traveling for business or leisure, this departure location for train stations in Indianapolis has covered you.
See Related: Greyhound Bus Tracking: Embarking on a New Era of Bus Travel
Boarding process and procedures
The process is simple and efficient when boarding the quickest bus from Indianapolis to Chicago. Here's what you need to know:
Ticketing: You can purchase your bus ticket in advance online or through the ticket-vending machines available at the departure location. You will get easy access to it and accept cash, credit, and debit cards.
Check-in: Arrive early at the bus or departure location and locate the bus station or designated boarding area. Don't forget to have your reservation number ready, be it printed or on your mobile device. The driver at the bus station will check your reservation before you board the earliest bus.
Boarding the public transit bus leaves before the last bus: You can board the bus once your reservation is confirmed. Follow the instructions of the bus station and the same bus driver and find your seat. It will ly marked if you have chosen a reserved seat option.
Comply with the luggage requirements and restrictions the bus company sets. Following the bus stop driver's instructions, store your luggage in the designated compartments or overhead storage bins.
Amenities: Sit back and relax during your journey to ensure comfort; the bus has onboard restrooms, individual power outlets, and reclining shorts.
Luggage requirements and restrictions
Are you planning a bus trip from Indianapolis to Chicago? If so, it's crucial to know the luggage requirements and restrictions for the bus journey. Different bus firms have different policies when it comes to baggage allowances.
As an illustration, Megabus allows one piece of luggage per passenger with specific dimensions and weight restrictions. They also have restrictions on carry-on bags, so choosing a bag that fits their guidelines is crucial. Conversely, Greyhound allows one free carry-on bag and one bag in the baggage compartment.
It's crucial to follow these guidelines to ensure a smooth journey. Remember to label your luggage with your name, address, and contact number to prevent any loss or confusion. And if you plan on traveling with excess baggage, check the company's policies and fees. By following these guidelines, you can have a stress-free journey from Indianapolis to Chicago.
Onboard Experience
Bus amenities and facilities
Traveling by bus from Indianapolis to Chicago offers a comfortable and convenient way to reach your destination. With amenities and facilities designed to make your journey enjoyable, you'll have everything you need for a smooth trip.
First, all buses have onboard restrooms, ensuring access to necessary facilities throughout the journey. Individual power outlets are also available at each seat, allowing you to stay connected to wi-fi and charge your devices.
Other amenities at bus stations include three-point seatbelts for added safety and reclining seats for maximum comfort. Moreover, buses offer reserved seating options, allowing you to choose the most comfortable seats suitable spot for a more spacious bus ride or to sit with family and friends. With these amenities and facilities, your bus journey from Indianapolis to Chicago will surely be a pleasant experience.
Seating options and comfort level
Regarding seating options and comfort level, the bus from Indianapolis to Chicago offers a range of choices to ensure a pleasant journey. All seats on the bus are equipped with three-point seatbelts, allowing for a secure and safe ride.
Additionally, the seats are designed with comfort in mind, offering ample legroom and the ability to recline for added relaxation. For those looking for an upgraded experience, reserved seating is available. This allows passengers to choose from the ten most popular seats on the bus, providing a more spacious ride or the opportunity to sit next to family and friends.
It's crucial to note that reserved seats are limited, so planning and booking early for your Indianapolis to Chicago buses round trip on tip is best. With these seating options, you can rest assured that your journey will be comfortable and enjoyable from start to finish.
Traveling from Indianapolis to Chicago
Scenic route and landmarks
If you'd like to make your bus journey from Indianapolis to Chicago more memorable, consider taking the scenic route! You'll come across some stunning landmarks and picturesque views along the way. One of the top stops on this route is the beautiful Indiana Dunes State Park, where you can enjoy the sandy beaches and towering dunes along the shores of Lake Michigan.
Another crucial landmark to experience is the impressive Museum of Science and Industry in Chicago, which offers a fascinating exploration of science, technology, and history. You can also make a detour to the Horseshoe Hammond, a popular casino and entertainment venue.
Whether you're a nature lover or interested in history and culture, the scenic route from Indianapolis to Chicago will not disappoint. Remember to bring your camera to capture all the amazing landscapes along the way.
Estimated travel time
The estimated travel time from Indianapolis to Chicago by bus is around 7 hours and 7 minutes. But, the fastest bus operated by FlixBus US can make the journey in just 3 hours and 30 minutes. It's crucial to note that the full travel date and time may vary depending on traffic conditions and the specific bus route. Nonetheless, taking a bus from Indianapolis to Chicago offers convenient and affordable travel.
During the journey, passengers can enjoy the amenities the bus companies provide, among other factors, such as comfortable seating, free WiFi, and access to restroom facilities. Whether planning a day trip or a longer stay, taking the bus is a great way to travel between these two cities and explore all of Chicago's features.
See Related: How to Book Cheap Bus Tickets [Step-by-Step]
Arriving in Chicago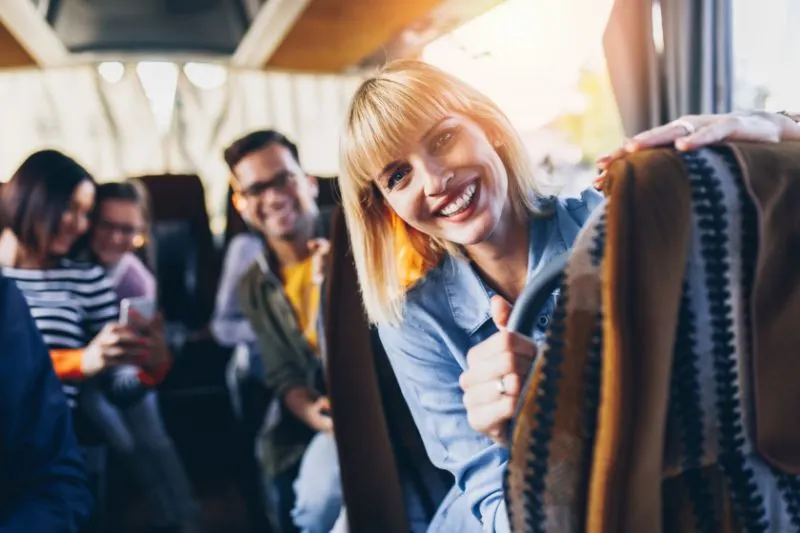 Arrival location and drop-off points
When you arrive in Chicago after taking a bus from Indianapolis, you'll be dropped off at one of four stations, depending on your chosen bus company. The main arrival bus station is at 630 W Harrison St. You'll be conveniently located near hotels, restaurants, and public transportation options.
Chicago is a city that offers accommodates diverse desires, from famous sights like Millennium Park and the Chicago skyline to bastions of culture like the Art Institute and Lincoln Park Zoo.
Ground transportation options
Once you arrive in Chicago, you may wonder about ground transportation options to reach your final destination. Luckily, there are a few options available to suit your needs.
If you prefer public transportation, you can use the city's extensive bus and train system, the Chicago Transit Authority (CTA). The CTA offers affordable fares and can take you to various neighborhoods and attractions throughout the city.
If you prefer a more convenient option, you can also hail a taxi or ride-sharing service like Uber or Lyft. These options provide door-to-door transportation and can be booked through convenient mobile apps. Also, car rental services are available if you prefer to have your vehicle during your stay in Chicago. Overall, you have plenty of choices regarding ground transportation in the Windy City.
Final Thoughts
Ultimately, taking a bus from Indianapolis to Chicago is an affordable and convenient way to travel between cities. With multiple bus companies and daily trips available, you have a range of options to choose from. The average travel time is around 3 to 4 hours, depending on traffic conditions. It's crucial to note that some customers have had mixed experiences with certain bus companies, so it's advisable to read reviews and choose a reputable company.
Additionally, be aware of the various departure times, arrival locations, and any luggage requirements or restrictions. Taking a bus from Indianapolis to Chicago is a great choice if you're on a budget and looking for a comfortable and hassle-free journey.
Related Resources: