Megabus has become a popular choice for budget-conscious travelers seeking an affordable and comfortable way to reach their destinations. This transportation company offers bus services throughout the United States, providing an alternative to more expensive travel options like airfare and train tickets. Megabus prides itself on its low fares, modern fleet of double-decker buses, and convenient boarding locations in various cities.
However, with every transportation option, there are advantages and drawbacks to consider. When it comes to Megabus, there are mixed reviews and varying opinions on the quality of service, punctuality, and overall customer experience. This article will explore what some customers have said about their Megabus travels and provide a balanced overview of what to expect when booking a trip with this bus company.
Megabus Company Background
Megabus is a popular low-cost intercity bus service operating in North America. Founded in 2006, it has quickly grown to serve a vast network of interconnected cities across the United States and Canada. The company's primary goal is to provide affordable and convenient transportation for its customers.
The bus company is a subsidiary of Stagecoach Group, a major transportation organization based in the United Kingdom. Stagecoach Group has extensive experience in the transportation industry, allowing Megabus to benefit from the parent company's expertise and resources. They strive to maintain a high level of customer satisfaction through their extensive and well-connected transportation network.
Known for its online booking system, Megabus allows travelers to secure their bus tickets easily from a computer or smartphone. With fares as low as $1, Megabus has become a popular choice for budget-conscious travelers and students alike. Their fleet mainly comprises of double-decker buses, offering plenty of seating options and amenities, such as Wi-Fi, power outlets, and air conditioning.
Over the years, Megabus has proven itself as a reliable and safe transportation option for its customers. Their commitment to delivering quality service and keeping costs low has contributed significantly to their success in the intercity bus service market.
Booking a Megabus Trip
Purchasing Tickets
To book a trip with Megabus in the US, you can visit their official website or use their mobile app. Megabus offers low-cost bus tickets starting from $1, providing a budget-friendly option for travelers across America.
Booking fees may apply during the purchase process. Megabus does not operate 24 hours a day in all locations, so it is essential to check their schedules and availability for your desired route and time.
When purchasing tickets, customers can reserve specific seats by paying an additional fee. This enables passengers to secure a comfortable spot on the bus and make their journey more enjoyable. Prices may vary based on availability, demand, and booking time, so booking your tickets as early as possible is advisable to get the best deals.
Refund Policy
Megabus has a strict refund policy. Tickets are non-refundable, and exchanges are only allowed if requested at least three hours over an hour before the scheduled departure time.
Customers can change their reservation by visiting the 'Manage Booking' section on the Megabus website or app, but keep in mind that a modification fee might apply. No refunds or exchanges are available for missed buses or if a customer decides not to travel.
In case of bus cancellations or delays caused by Megabus, the company may offer alternative travel arrangements or provide compensation by their terms and conditions. However, it is essential to review their policies before booking to ensure you fully understand the refund and exchange terms.
See Related: FlixBus Review: Is It Legit & Worth It?
Onboard Experience
SeatComfort and Spacing
The Megabus onboard experience is designed to provide passengers with a comfortable and relaxed journey. One significant aspect of comfort on Megabus is the seating arrangement.
Passengers can enjoy spacious seats with ample legroom, enabling them to sit back and enjoy the ride without feeling cramped. Moreover, the luxury double-decker buses are equipped with air conditioning, ensuring a pleasant temperature throughout the trip.
See Related: Best Bus Tours from Nashville to Jack Daniels Distillery
Wi-Fi Connectivity
Another important feature of the Megabus onboard experience is the provision of free Wi-Fi connectivity. Passengers can stay connected and productive during their journey, with the opportunity to browse the internet, check emails, and even stream content, depending on the signal strength and availability. Furthermore, the Wi-Fi connection is generally reliable, as evidenced by positive reviews from users who have praised the connectivity during their trips.
Luggage Allowance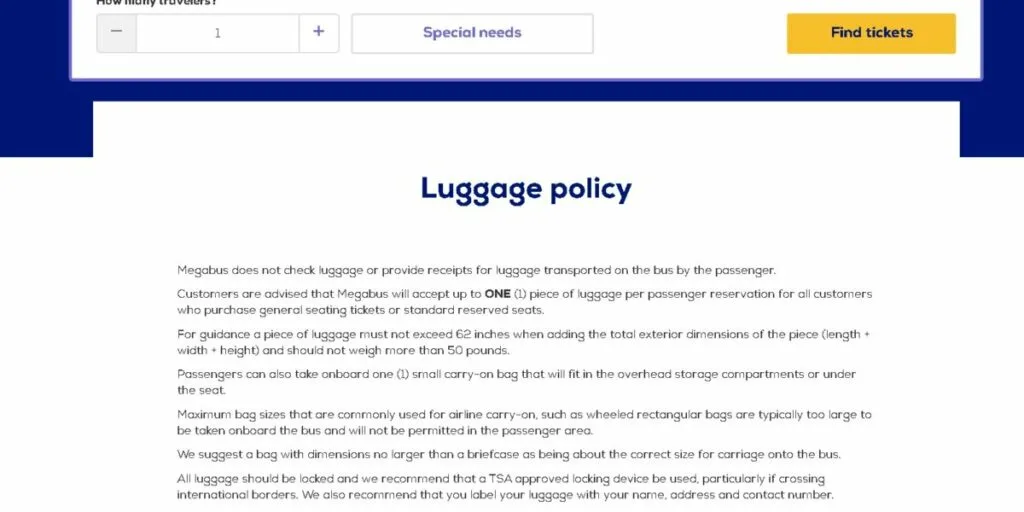 Megabus also offers a convenient luggage allowance for passengers to accommodate their travel needs. Each passenger is permitted to bring one piece of luggage weighing up to 50 lbs (22.6 kg) and one small carry-on bag that can fit in the overhead storage compartments.
This allows travelers to carry their essential belongings without causing any discomfort or inconvenience to fellow passengers. However, it is important to note that any luggage exceeding the allowed dimensions and weight might not be accommodated on the bus, and passengers are required to adhere to these specifications to prevent any issues or delays.
See Related: Best Travel Agent Websites: Top Choices for Your Next Trip
Travel Destinations and Routes
Megabus offers a variety of routes and destinations for travelers in the United States, UK, and Europe, making it a popular choice for those looking for affordable and flexible transportation options.
Popular Routes in the US
In the United States, Megabus connects major cities and popular destinations, allowing travelers to easily explore various regions without breaking the bank. Some of the top routes in the US include:
New York to Philadelphia: This route takes passengers on a quick journey between two of the biggest cities on the East Coast.
New York to Washington DC: This route connects NYC and Washington DC with a convenient travel time for those looking to explore the nation's capital.
New York to Buffalo: Ideal for those looking to visit the Niagara Falls or Toronto, this route links NYC with Buffalo, a gateway to exciting destinations nearby.
Here is a sample table of routes and their approximate travel times:
Route Travel Time New York to Philadelphia 2h New York to Washington DC 5h New York to Buffalo 7h 30m
See Related: Best Day Trips from New York City
UK and European Routes
Megabus also offers an extensive network in the United Kingdom, with connections to various cities and towns across the region. Popular UK routes include:
London to Manchester: Connecting England's vibrant capital with the bustling city of Manchester, this route is perfect for both leisure and business travelers.
London to Edinburgh: For those looking to explore Scotland, this route links London to the historic city of Edinburgh.
In addition to the UK, Megabus provides routes across Europe, allowing travelers to visit multiple countries and cities during their journey. While not exhaustive, the following are some examples of European destinations serviced by Megabus:
Paris, France
Amsterdam, Netherlands
Berlin, Germany
Travelers can benefit from Megabus's wide range of destinations and routes to explore the United States, UK, and Europe. Offering a comfortable and affordable travel option, Megabus is a popular choice for many journeying within or across these regions.
Stations and Boarding
Finding a Megabus Station
Megabus operates in various cities across the United States, Canada, and Europe. Their stations can typically be found in major transportation hubs like the Port Authority in New York and Victoria Coach Station in London. The location of these stations is crucial for the convenience of travelers.
To find a Megabus station, visit their website and enter your departure and destination cities, then choose your desired departure time. This will provide information about the station's exact location for your trip.
Boarding Process
The boarding process for Megabus is straightforward and organized. It is essential to arrive at the designated bus stop or bus station at least 30 minutes before your scheduled departure time to ensure you have enough time to board. Megabus operates on a first-come, first-served basis for boarding, so arriving early may guarantee a better seat.
When you arrive at the station, look for Megabus signage to identify the boarding area. There, you will find a staff member who will check your reservation or ticket and guide you through boarding. It is crucial to have your reservation confirmation or Megabus ticket, readily available, either printed or on your mobile device.
Once your ticket has been verified, you'll be allowed to board the bus. If you're traveling with luggage, be prepared to have it placed in the designated storage area beneath the front bus door. Remember to tag your luggage appropriately with your name, address, and contact information to prevent any mix-ups during deboarding.
In conclusion, Megabus offers a comfortable and systematic boarding experience. By being prepared with your ticket and arriving early to the boarding location, you can ensure a smooth and pleasant start to your trip.
Customer Service and Support
Contacting Customer Support
Megabus customer service can be contacted by phone for any inquiries or assistance. While some customers have reported satisfactory experiences with responsive and knowledgeable representatives, others seem to have had difficulty getting answers to basic questions. The service's rating and reviews vary, with some appreciating the support provided and others feeling frustrated with their experience.
Handling Complaints and Issues
When it comes to handling complaints and issues, Megabus's management has received mixed feedback. Some customers have voiced concerns over damaged luggage and other bus-related problems.
On the other hand, there are instances where the company has been praised for their dedicated bus staff, like bus driver, Dwayne, who provided exceptional service. To ensure a better experience, customers are advised to book their trips online and avoid relying too much on customer support.
In conclusion, Megabus's customer service and support show a range of opinions from their customers. There are both positive and negative experiences, making it essential for potential passengers to engage with the service knowing that their experience may vary.
See Related: Best Luxury Bus Tours
Adherence to Schedule
Megabus aims to adhere to their schedules to provide a seamless travel experience for passengers. An integral part of a satisfactory bus trip is punctuality and schedule adherence. In this section, we will discuss the causes of delays and how Megabus deals with schedule changes.
Causes of Delays
There are a few common reasons for delays in Megabus trips:
Traffic: As with any road-based transportation, traffic can cause significant delays. Heavy traffic or unexpected road closures can significantly impact the travel time of a Megabus trip.
Weather conditions: Harsh weather conditions, such as heavy snow or torrential rain, can cause delays by slowing down traffic or making roads unsafe for travel.
Mechanical issues: Sometimes, Megabus vehicles may experience mechanical issues that require maintenance or repairs. In such cases, the trip's departure or arrival might be delayed until the issue is resolved.
Passenger or driver incidents: Unforeseen circumstances, such as a passenger falling ill during the trip or a driver being unavailable, can cause delays in the schedule.
Dealing with Schedule Changes
To mitigate the impact of these delays and ensure a smooth overall experience for passengers, Megabus has several strategies in place:
Informing passengers: When there are delays or schedule changes, Megabus aims to inform passengers via email or text message, providing them with the updated arrival or departure time.
Alternative transportation: In cases where the delay is exceptionally long, Megabus may arrange for alternative transportation, such as providing another bus or connecting passengers to alternative modes of transport.
Round trip adjustments: Megabus offers round trip tickets for passengers who wish to return to their starting point. If a delay affects the first part of the round trip, Megabus makes an effort to adjust the return trip's timing to accommodate the delay, when possible.
Customer support: Megabus provides customer support services to address any concerns or questions passengers may have about delays, schedule changes, or any other issues they may experience during their trip.
By being aware of common causes of delays and Megabus' approach to dealing with schedule changes, passengers can have realistic expectations and better prepare for potential disruptions in their travel plans.
Safety and Security
Measures to Ensure Passenger Safety
Safety is a priority for Megabus, and they have taken numerous measures to guarantee passengers have a comfortable and secure journey. All Megabus coaches undergo regular inspections and maintenance to ensure that they are in the best possible condition for travel. Additionally, professional drivers with extensive training and experience are employed, ensuring the highest level of expertise behind the wheel.
Another important aspect of safety on a Megabus involves adherence to strict guidelines regarding seating and luggage. All passengers are required to sit in their designated seats with seatbelts fastened, keeping the aisle clear for potential emergencies.
Luggage must be stored in the designated areas beneath the coach or in the overhead compartments. This helps prevent any obstruction or hazards during the journey.
Dealing with an Accident or Emergency
In case an accident or emergency occurs while traveling on a Megabus, the professional drivers are trained to handle such situations. They can initiate emergency procedures and follow appropriate evacuation protocols if necessary. In the event of a breakdown or a major delay, Megabus works quickly to assist passengers, providing alternative transportation or issuing refunds where applicable.
Furthermore, each Megabus coach is equipped with safety features such as fire extinguishers and emergency exits, ensuring passengers can respond effectively in the event of an emergency.
It is essential for passengers to be aware of these safety precautions and to follow the guidance of drivers and Megabus staff during any incident to ensure their security and wellbeing.
Megabus vs Greyhound
When comparing Megabus and Greyhound, it is essential to consider factors like comfort, safety, and customer experiences. Both companies are popular choices for intercity bus travel in the United States, offering affordable air and train travel alternatives.
Regarding comfort, Greyhound appears to have an advantage. They have upgraded their seats to feature reclining leather, providing passengers a more enjoyable travel experience. In addition to this, Greyhound buses tend to have more legroom compared to Megabus, which has seats similar to those found in regular commercial buses.
Safety is a priority for many travelers, and both Megabus and Greyhound seem to receive positive feedback on this front. Passengers feel safe during their journeys on both bus services, even on longer trips and overnight routes. However, it is important to note that safety is influenced by driver performance and the conditions of individual bus trips.
When it comes to customer experiences, opinions vary based on individual preferences and the specific route taken. Some passengers find Megabus to be a satisfactory choice, while others may prefer the services offered by Greyhound. The price difference between the two companies can also play a significant role in a traveler's decision, as both companies occasionally offer promotional fares and discounts.
The choice between Megabus and Greyhound comes down to the traveler's preferences and requirements. Comfort may favor Greyhound, but Megabus can still provide a satisfactory travel experience for budget-conscious passengers. Safety appears to be reliable for both companies, ensuring peace of mind during travel.
See Related: How to Master the JMU Bus Schedule: A Step-by-Step Guide
Megabus Reviews
Megabus is a popular intercity bus service and long-distance coach operator in the United States. They provide an affordable travel option for those without a car who need to travel to other cities.
In terms of customer reviews, opinions about Megabus vary significantly. Some passengers appreciate the low-cost fares and convenience of the service.
According to Influenster, Megabus has a 3.9 rating out of 5 stars based on 813 reviews. 32% of the reviews were 5 stars, and 38% were 4 stars. This indicates that a majority of users had positive experiences with the company.
However, there are also negative Megabus reviews from customers who experienced issues with customer service, damaged luggage, or trip delays. For instance, Trustpilot lists Megabus with a 2.3 rating out of 5 stars based on 4,841 reviews. This shows that there is room for improvement in certain areas of the company's service.
In a review on Tripadvisor, a traveler mentioned that although they frequently use Megabus to travel between Washington, D.C., and New York City, they found that the air conditioning system on the bus was too cold and the cleanliness left room for improvement. This highlights that not all aspects of the Megabus service are consistent, and there may be variances in passenger experiences.
It is important to consider that experiences may differ based on factors like route, date, and time of travel. Some Megabus routes may receive more positive feedback than others due to differences in service or bus conditions. Furthermore, some passengers may have higher expectations for budget travel options than others, which could influence their perception of the overall experience.
In conclusion, while Megabus has both positive and negative reviews, it remains an affordable and convenient option for long-distance travel. Prospective passengers should read reviews and weigh the benefits and drawbacks before traveling with Megabus. It is also essential to manage expectations when using a budget transportation service.
Final Thoughts: Is Megabus Legit?
Megabus is a well-established transportation company that provides bus services connecting several cities across various countries. They are known for their budget-friendly fares, although it might not be the most luxurious travel option available. The bus service offers a wide range of departure and arrival times, giving passengers some flexibility in their travel plans.
Customer reviews on Megabus yield mixed opinions, with some users enjoying the low-cost and cheap tickets, and others having negative experiences with damaged luggage or inflexible ticket policies. It's essential to consider these factors when considering Megabus as a travel option.
While Megabus might not always provide immaculate cleanliness and comfort, it remains a legitimate option for travelers who prioritize affordability and convenience in their trip planning. As long as passengers understand and accept the potential drawbacks, Megabus can indeed prove to be a practical choice for traveling between cities.
Frequently Asked Questions
How safe is Megabus travel?
Megabus is committed to passenger safety and adheres to strict safety standards. Vehicles are routinely inspected and maintained to ensure a secure travel experience.
Professional drivers are well-trained, and Megabus has policies in place to monitor their performance. Overall, this bus service offers a safe mode of transportation.
Are Megabus buses comfortable?
Megabus buses are designed with passenger comfort in mind. The reclining seats provide ample legroom, and adjustable air conditioning vents keep the cabin at a comfortable temperature.
Additionally, the buses are equipped with free Wi-Fi to help passengers stay connected during their journey. While comfort may vary, Megabus strives to provide an enjoyable ride for all passengers.
Does a Megabus have a bathroom?
Yes, Megabus buses are equipped with restrooms for passenger convenience. The restrooms are typically located at the rear of the bus and are accessible throughout the duration of the return trip back.
Is Megabus usually late?
Megabus aims to maintain punctual departure and arrival times. However, occasional delays may be inevitable due to unforeseen circumstances, such as traffic or weather conditions. Passengers are advised to track their bus using the "track my bus" feature on Megabus website to stay updated on the bus's location and expected arrival time.
How does Megabus compare to Greyhound?
Both Megabus and Greyhound offer affordable, long-distance bus travel. Megabus is known for its low fare options, while Greyhound typically offers a larger network of destinations.
However, their amenities and overall travel experience may vary depending on individual preferences. To help decide which service to choose, passengers can compare factors such as price, travel time, and the availability of specific amenities.
What amenities are available on a Megabus?
Megabus provides a range of amenities to enhance the passenger experience, including free Wi-Fi, power outlets at every seat, and air conditioning. The buses are also equipped with a restroom for added convenience during long journeys. Megabus is dedicated to offering a comfortable and enjoyable ride, and passengers can expect these amenities on most trips.
Related Resources