Lyon, an energetic and historic city in France, offers visitors many attractions. But, one may want to explore beyond the city limits and embark on a range of day trips to discover the beauty of the surrounding regions. With its prime location in eastern France, Lyon is an ideal starting point for a few memorable excursions, rich in history, culture, and natural beauty.
Day trips from Lyon cater to diverse interests, whether exploring charming medieval villages, admiring ancient Roman ruins, or indulging in exquisite French cuisine and wine.
The accessibility of a range of locales from Lyon ensures suitable options for those seeking leisurely and adventurous experiences. From the picturesque landscapes of the Beaujolais Wine Route to the stunning architecture of cities like Dijon and Grenoble, there are countless opportunities for memorable explorations.
As travelers embark on these day trips, they will not only be mesmerized by each location's distinct beauty and charm. Still, they will also gain a deeper appreciation for France's rich history and culture. The vast array of day trips from Lyon encourages all visitors to step beyond the city's borders and uncover the hidden gems in the surrounding French countryside.
Public Transport and Car Rental
When planning day trips from Lyon, France, visitors have a few options, from public transport to renting a car. Both choices offer unique advantages depending on your preferences and travel goals.
Train Travel
One popular and convenient way to explore the surroundings of Lyon is by train. France's highly developed train network offers frequent connections between Lyon and neighboring cities and towns. For instance, trains from Lyon Part-Dieu to various destinations make traveling throughout the region swift and easy. Train journeys can take anywhere from around an hour to a few hours, depending on the destination, allowing for a comfortable day trip experience.
Using trains reduces the hassle of navigating unfamiliar roads and provides an opportunity for sightseeing as the scenic French countryside unfolds. To make the most of your train travel, consider purchasing tickets in advance and review timetables for the most convenient schedules.
Renting a Car
For those seeking more flexibility and independence during their day trips from Lyon, renting a car is an excellent possibility. Your vehicle lets you control your schedule, make multiple stops, and explore lesser-known attractions. Depending on the size of your group, renting a car might even be more cost-effective than other forms of transportation.
Many car rental agencies in Lyon have a wide selection of vehicles to suit your needs. Before renting a car, ensure you have a valid driving license and familiarize yourself with the local traffic rules. Some day trips from Lyon may require paying nominal toll fees on certain roads, so it is a good idea to consider this when planning your budget.
See Related: Best Bus Tours in Paris, France
Day Trips to Medieval Towns
Explore the rich history and charm of Eastern France by visiting medieval towns near Lyon. These day trips offer a glimpse into the past, with their well-preserved architecture and place abundant in historical significance. Here are some of the best medieval towns to visit on your day trip from Lyon:
Pérouges
Just a short trip from Lyon, the medieval town of Pérouges is bound to leave you thoroughly charmed by its quaint character. This pretty hilltop town is surrounded by gentle rural countryside that amplifies its small-town atmosphere. Pérouges is home to half-timbered stone houses, cobblestones roads, and the world-famous Galette de Pérouges. Make sure to visit the Musée du Vieux Pérouges, a museum displaying artifacts and highlighting the history of this beautiful medieval village here.
Annecy
Annecy, often called the "Venice of the Alps," is a picturesque town near a beautiful lake. Its old town, Vieille Ville, features colorful houses, narrow streets, and canals with romantic bridges. Amble through the streets and take in the dynamic atmosphere, and don't miss out on the medieval Palais de l'Isle, which is now a museum about the town's history.
See Related: Explore Los Angeles – Discover the Best Tours of LA
Vienne
Vienne is a town with a rich history dating back to Roman times. Key attractions include the Roman Theatre, one of the largest in the world, capable of seating around 13,000 spectators. The Temple of Augustus and Livia showcases the town's Roman past, and the Vienne Cathedral, with its Gothic architecture, adds to the historic charm of the town center. Spend your day exploring these ancient sites and absorbing the history of this remarkable medieval town.
From well-preserved architecture to picturesque surroundings and quaint villages, these medieval towns offer a delightful day trip experience for excursionists seeking a taste of France's rich history. Make sure to add Pérouges, Annecy, and Vienne to your itinerary for your next visit to Lyon.
See Related: Best Day Trips from Tulsa, Oklahoma: Destinations to Explore
Exploring Wine Regions
France is famous across the globe for its exquisite wines, and many exceptional wine regions can be discovered on day trips from Lyon. This section covers three key nearby areas worth exploring: Beaujolais, Burgundy, and Dijon.
Beaujolais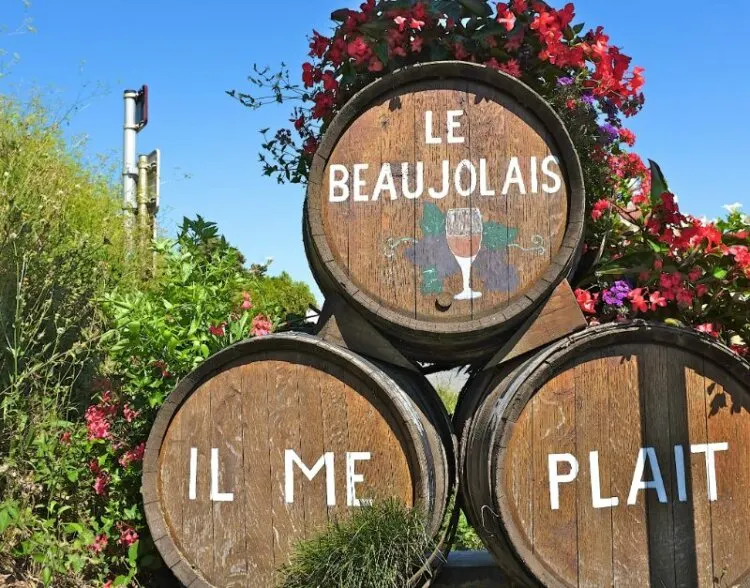 Beaujolais region, located just north of Lyon, is famous for its picturesque landscapes and beautiful vineyards. The area is known for its fruity, light red wines from the Gamay grape variety. A popular attraction is the Beaujolais Wine Route, which takes visitors through charming villages and stunning vineyards, offering a wide array of options for wine-tasting excursions.
Many of the wineries in Beaujolais feature cellars where guests can enjoy guided tours and taste unique, locally produced wines. As you explore the region, you'll find that each winery has its approach to wine-making, resulting in a wide variety of flavors and styles to sample.
Burgundy
Burgundy is another prestigious wine region located to the north of Lyon. Famous for its red wines made from Pinot Noir grapes and white wines made from Chardonnay grapes, the Burgundy wine region offers an array of excellent vineyards and cellars to discover.
The wine route from Lyon to Chalon-sur-Saône is a popular option for excursionists wanting to explore the vineyards, allowing them to admire the beautiful scenery and taste the delightful wines for which the area is renowned. Many wineries also offer guided tours, where visitors can learn about the region's wine culture and production methods.
Dijon
The historical city of Dijon, which lies further to the north of Burgundy, is not only known for its mustard but also its dynamic wine scene. The city center surrounding countryside features numerous vineyards that produce excellent wines, focusing on red and white varieties.
Visitors can experience the essence of Dijon's wine culture by taking guided tours of the vineyards, where they'll have the opportunity to learn about the local grape varieties and wine-making techniques. Wine-tasting events abound close by, catering to the diverse palates of wine lovers, enthusiasts, and casual tourists.
See Related: Best Day Trips from Rotterdam, Netherlands
Visiting the Alps
Lyon, France, is the perfect starting point for day trips to the stunning Alps, allowing visitors to explore some of the most picturesque locations in the Auvergne-Rhône-Alpes region.
French Alps
Located in eastern France, the French Alps are an amazing mountain range with arresting panoramas, charming mountain villages, and excellent skiing opportunities. From Lyon, travelers can experience the beauty of the French Alps by visiting a range of destinations, such beautiful villages as Grenoble, La Clusaz, and more.
Grenoble
Grenoble is situated at the foot of the French Alps and offers sublime views of the surrounding mountains. With a rich history and a dynamic cultural scene, Grenoble is an ideal destination for a day trip from Lyon. Visitors can travel by train for 1½ hours to get there, with trains departing every 30 minutes to 1 hour. Alternatively, buses are available roughly every hour but may take up to 2 hours to arrive.
See Related: Best Day Trips from Munich: Destinations to Explore
La Clusaz
La Clusaz is a charming skiing village at the core of the French Alps. During winter, ski enthusiasts can enjoy a range of slopes catering to all skill levels. In the summer, La Clusaz offers visitors opportunities for hiking, mountain biking, and enjoying the serene Alpine atmosphere. To reach this picturesque village from Lyon, travelers can opt for a 2-hour scenic drive or take a combination of train and bus transfers, making it a convenient and enjoyable day trip.
See Related: Best Day Trips from Frankfurt, Germany: Top Getaways
Nature Destinations
Domaine de Lacroix-Laval
Domaine de Lacroix-Laval is a beautiful estate near Lyon, perfect for a day trip if you're looking to escape into nature. Its lush wooded parkland, streams, and tree-lined paths offer a tranquil atmosphere to unwind and relax. Ideal for families or couples alike, visitors can enjoy strolls, picnics, or even bike rides throughout the picturesque surroundings.
Lake Annecy
Lake Annecy, also called the "Pearl of the French Alps," is a stunning alpine lake approximately two hours from Lyon. The crystal-clear waters and surrounding mountains provide a fantastic backdrop for outdoor activities such as swimming, sailing, and fishing. Nature lovers can explore a few hiking tracks around the lake, where they may encounter blooming meadows and panoramic mountain views.
The charming town of Annecy, a tiny town on the lake's shores, boasts medieval buildings, canals, and flower-adorned bridges, offering a delightful mix of nature and culture. It's an ideal destination for those seeking relaxation and adventure on their day trip from Lyon.
Lake Geneva
Another day trip opportunity for nature enthusiasts is Lake Geneva, a large and magnificent lake shared between France and Switzerland. The French shore is approximately three hours from Lyon, making it a feasible destination for a day excursion. The lake's clear blue waters are surrounded by picturesque towns and stunning rolling hills, providing plenty of outdoor activities such as swimming, sailing, and hiking.
In addition, the lakeside town of Evian-les-Bains offers a luxurious atmosphere with its renowned thermal spa, charming shops, and elegant gardens. Visiting this lovely town on Lake Geneva, with its amazing landscape and bastions of culture, allows individuals to experience a mixture of nature and sophistication on their day trip from Lyon.
See Related: Best Day Trips from Los Angeles: Top Excursions Revealed
Day Trip to Switzerland
Geneva is a great possibility for a day trip from Lyon, France, to Switzerland. Easily accessible by train, this scenic Swiss city combines stunning natural landscapes and rich cultural experiences, making it an ideal destination for a memorable day trip.
Geneva
Geneva, Switzerland's second most populated city, is just a two-hour train ride from Lyon. Surrounded by the Alps, the Jura Mountains, and the beautiful Lake Geneva, this city offers fantastic views and many attractions for visitors to explore.
One of the crucial visit spots in Geneva is the Jet d'Eau or Geneva Water Fountain. One of the tallest water fountains in the world, the Jet d'Eau shoots water up to 140 meters high, creating a mesmerizing sight that can be seen from a range of points around the city.
For history and architecture enthusiasts, visiting St. Pierre Cathedral is a must. This historic site, dating back to the 12th century, features an eclectic mix of architectural styles, including Gothic, Romanesque, and Neoclassical. Visitors can also climb to the top of the cathedral's towers for panoramic views of Geneva and its surroundings.
Switzerland: A diverse and picturesque country, perfect for a day trip from Lyon, France.
Geneva: A scenic Swiss city with stunning natural landscapes and rich cultural experiences.
Jet d'Eau: One of the tallest water fountains in the world, a crucial visit attraction in Geneva.
St. Pierre Cathedral: A historic site with a unique blend of architectural styles and panoramic views.
Overall, a day trip to Geneva offers visitors a rich and diverse experience, with a unique blend of natural beauty, history, and culture that creates a lasting impression. Don't miss the opportunity to explore this enchanting Swiss city on your next visit to Lyon, France.
See Related: Best Day Trips from Zagreb, Croatia: Top Destinations
Historic Sites and Museums
For history and art enthusiasts, there are a few splendid options for a day trip from Lyon. These spots offer a glimpse into the region's remarkable past and creative spirit.
Château de la Roche
Located by the Loire River, Château de la Roche is an architectural jewel that amazes its visitors. It offers a perfect combination of history and picturesque scenery. The medieval castle has been well-preserved throughout the centuries, allowing visitors to revisit and appreciate its historical significance.
Musée des Beaux-Arts
Art aficionados can head to the Musée des Beaux-Arts, a noteworthy museum at the core of Lyon. Known for its diverse art collection, the exhibition center showcases artwork ranging from ancient Egyptian relics to contemporary masterpieces. Some key highlights include works by Rubens, Rembrandt, and Delacroix. Frequented by tourists and locals, the Musée des Beaux-Arts is a crucial experience destination for anyone interested in art.
Aix-les-Bains
Aix-les-Bains, located in the Haute-Savoie region, offers an enriching journey into the past of this spa town. Once a favorite spot for nobility, Aix-les-Bains now provides diverse attractions for visitors. While exploring the city, one can discover ancient Roman baths, magnificent Belle Époque architecture, and the impressive Abbaye d'Hautecombe on the stunning Lake Bourget. A day trip to Aix-les-Bains offers a memorable experience for history lovers and leisure seekers alike.
See Related: Best Day Trips from Nice, France
Final Tips and Recommendations
When planning your day trips from Lyon, France, it is always a good idea to consult the local tourist office for up-to-date information on transportation, attractions, and events. They can provide valuable insights and resources to help you maximize your excursions.
One highly recommended of the many great Lyon day trips is visiting Annecy, which offers visitors a chance to experience the charm of a picturesque town set against the backdrop of the stunning French Alps. Meandering along the banks of the Thiou River or taking a leisurely boat cruise offers lovely views and a relaxing atmosphere.
The historic Old Town's quaint shops and cafes are also a must-see. To get to Annecy, you have various transport options, including trains and buses, so choose the one that best suits your schedule and preferences.
To ensure a smooth and enjoyable experience on your day trips, remember the following tips:
Plan your itinerary and research the transportation options available for each destination.
Check the weather forecast before your trip and dress accordingly. Bring layers and comfortable footwear.
Book tickets for attractions or tours online, saving you time and money.
Keep an open mind and be prepared to adjust your plans when necessary, as unexpected events or opportunities may arise.
With these tips in mind, you'll be well-prepared to explore the fantastic day trips from Lyon and make unforgettable memories in this beautiful region of France.
Related Resources: